Overview of Root Canals
Endodontic treatment, more commonly known as a root canal, is a procedure performed on a tooth that's infected or has extensive decay. The procedure restores the function of your tooth through the removal of the damaged pulp and permanently relieves your symptoms.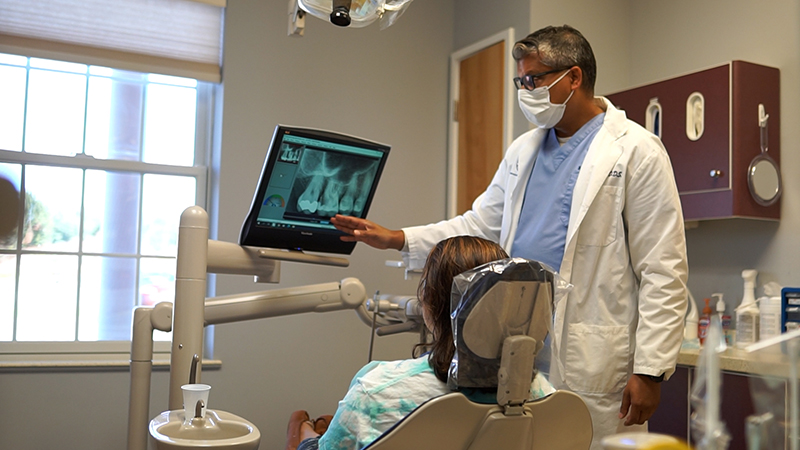 When Are Root Canals Needed?
The pulp tissue inside of your tooth cannot repair itself once it becomes damaged or infected, so a dental root canal is the only treatment that can save your badly decayed tooth. Here are some symptoms that indicate you may need a root canal:
Moderate to severe tooth pain that may interfere with eating or sleeping
Swollen or tender gums near the affected tooth
Tooth discoloration or darkening
Sensitivity to hot or cold temperatures
Who Performs Root Canals?
In addition to a general dentist, a specialist called an endodontist perform root canals. To receive relief from your tooth pain in a comfortable environment, call us today to schedule an appointment with a root canal dentist.
How Are Root Canals Performed?
A basic root canal procedure can be completed within one to two hours. These are the steps involved with the procedure:
1. So the procedure is comfortable and pain-free, the tooth is numbed with a local anesthetic.
2. To isolate the area and keep the tooth dry, a protective sheet is placed.
3. The dentist makes an opening in the crown of the tooth to access the pulp chamber.
4. Small tools are used to clean the pulp from the pulp chamber and clean and shape the root canals.
5. A solution is used to disinfect and flush out the tooth, removing any debris.
6. Once the pulp chamber is cleaned and dried, it's filled with a rubber-like material called gutta percha.
7. The tooth is capped with a permanent crown to finish the restoration.
Should I Expect a High Root Canal Cost?
After learning about some of the most common symptoms and what is involved with the procedure, you're probably wondering about your total root canal cost. The total cost of treatment can vary for each person and depends on which tooth is affected, the extent of decay or infection in the affected tooth, and how many roots the tooth has. Cost is also affected by dental insurance and whether you require treatment from an endodontist or a general dentist. To receive a comprehensive evaluation of your situation and a cost estimate, contact our office to schedule your appointment.
Are There Different Types of Root Canals?
The standard treatment is a root canal crown that can be performed on any tooth, such as molars and front teeth. Alternatives for this procedure include pediatric pulpotomy, which removes the damaged pulp, leaving the nerve intact. An apicoectomy, which is typically performed after an unsuccessful prior treatment, involves removing the top part of a tooth's root.
Is There Pain During Treatment?
Despite the popular misconception that receiving root canal treatment is painful, through the use of local anesthetics, you'll be surprised that the procedure relieves pain instead of causing it. Not only does the procedure relieve your tooth pain, it also allows you to keep your natural tooth and avoid an extraction or an artificial tooth replacement.
Are you ready to find relief from your tooth and mouth pain? Contact us today, and find out how easy it is to receive a root canal in Westfield. Call us today at (413) 306-4178 or book an appointment online.