While every dentist wants to save a tooth if possible, it isn't always feasible. When a tooth is beyond repair, a tooth extraction is the only solution. We strive to make an extraction as quick and as pain-free as possible.
Is a Tooth Extraction an Invasive Procedure?
An extraction is a dental procedure that removes the tooth from its socket. A surgical extraction procedure is used when the tooth is broken near the gum line or the tooth hasn't grown in. You will have local anesthesia for a dental extraction and general anesthesia for a surgical extraction, so you shouldn't feel any pain during the extraction.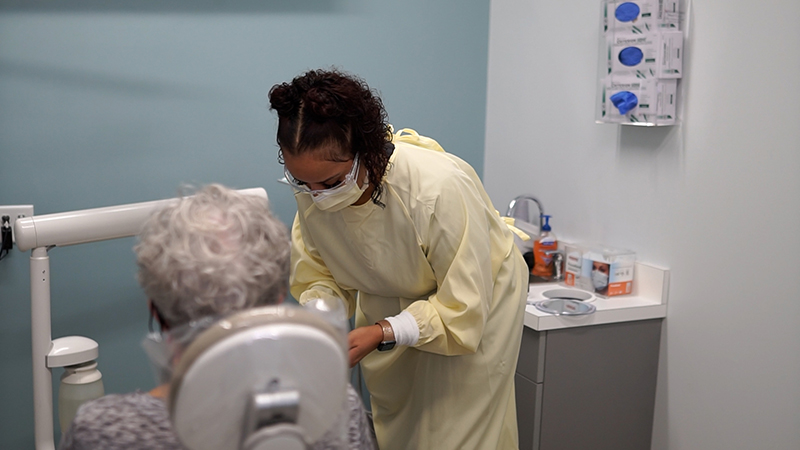 Is the Average Tooth Extraction Cost Expensive?
Teeth extractions vary in difficulty. Therefore, there is not a set fee that we can quote without first performing a dental examination. If you have dental insurance, it may cover the cost of having your tooth pulled. Call our office for an appointment and our dentist can give you an estimate for your tooth removal cost after examining your tooth.
What Conditions Warrant Tooth Removal?
Our dentist uses an extraction to prevent or arrest infection, overcrowding or severe pain.
Do You Have A Cracked Tooth That Can't Be Repaired?
Teeth that are severely cracked or broken may have to be extracted if our dentist cannot perform a root canal.
Is Severe Decay Causing You Pain?
If your tooth is severely decayed and the cavity is causing you agonizing pain, our dentist can take it out and stop the pain.
Are You Getting Braces?
When you don't have enough room in your mouth, your teeth will grow in misaligned. To correct the problem with braces, you may have to have several teeth extracted.
Do You Have Untreated Gum Disease?
Untreated third-stage gum disease causes bone loss. Your teeth will become very loose and you will need a tooth extraction before the tooth falls out on its own. Call us for an appointment with one of our experienced and qualified dentists.
Are Impacted Wisdom Teeth Bothering You?
Wisdom teeth, or your third molars, may come in crooked or have trouble emerging. You may notice jaw pain or swelling, especially if your wisdom teeth are affecting the surrounding teeth. If the teeth have emerged, our dentist may be able to extract them at our office. If a dental extraction isn't possible, our dentist will refer you to an oral surgeon.
Is There Anything I Cannot Do After Getting a Tooth Pulled?
Yes, you can't brush the extraction site or drink out of a straw. Our dentist will give you detailed instructions about what you should do and what to avoid. Avoid smoking as well because you don't want to do anything that will dislodge the blood clot that forms at the extraction site. Do not leave our office until you fully understand the aftercare instructions.
Is the Tooth Extraction Healing Time Quicker If a Dentist Pulls My Tooth?
Yes, because with a surgical extraction, you will have to wait for the stitches to dissolve. But, with a dental extraction, you will leave our dental office with gauze to bite down on until the bleeding stops. You should fully heal within two weeks.
Are you in need of a tooth extraction in Westfield? We cater to patients who fear getting a tooth pulled or visiting the dentist. Call us for an appointment and our team will make sure that you are comfortable and relaxed during your visit. Call us today at (413) 306-4178 or book an appointment online.