Need a Dental Exam and Professional Cleaning?
At our dental practice, we do our best to apply the latest technology and methodologies in order to provide compassionate and caring service. We will do everything we can to ensure that you are comfortable from the moment you step into our office. We will also provide you with the treatment you need to maintain a lifetime of excellent oral health. Gum disease treatment, a complete dental exam, and a thorough dental cleaning are just a few examples of the treatments and services we provide. During your first visit to our office, our dentist will check your teeth and mouth for the following dental problems:
Teeth grinding
Loss of bone
Tooth decay
Gum disease
Oral cancer
Call us today to schedule an appointment for a dental exam in Westfield. We look forward to meeting you and welcoming you to our dental practice.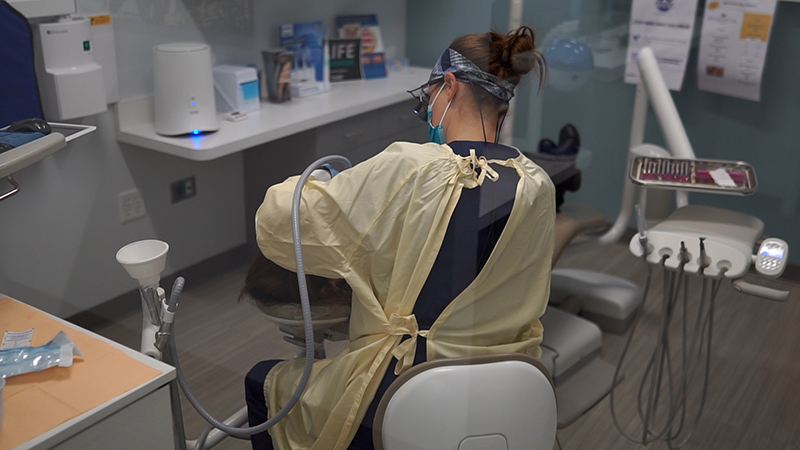 Why Is a Dental Cleaning Important?
Even with daily brushing and flossing, it's still possible for plaque and bacteria to build up on your teeth, especially around the gum line. If plaque and tartar continue to form on your teeth, you can develop gum disease, which is a major cause of tooth loss for adults. Regular teeth cleanings can remove plaque before it can damage your teeth, helping prevent gum disease, tooth decay, and bad breath.
What Are the Available Gum Therapy Options?
Gum disease is an infection of the gums and surrounding tissue that supports your teeth. It occurs when plaque accumulates on your teeth, causing inflammation of your gums. If your gums bleed when brushing or flossing or if they are red and swollen, you may have gum disease and should seek treatment from a dentist. When not removed during regular brushing and flossing, plaque can harden into calculus, which can only be removed by a dental professional. If left untreated, gingivitis can can progress to periodontitis, a serious form of gum disease that can lead to tooth loss if you don't receive periodontal treatment from a dentist.
How Can I Treat Bad Breath?
Halitosis, more commonly known as bad breath, is a very common condition that affects millions of Americans. It can be caused by many different things, such as dry mouth, tooth decay, gum disease, poor oral hygiene, and the foods you eat. Many bad breath remedies only treat the problem temporarily and do nothing to treat the underlying cause. Let our caring and knowledgeable dental professionals develop a treatment plan to help you get rid of bad breath and gain your confidence back. During your dental exam, we can give you recommendations for improving your oral health at home, and we also offer thorough dental cleanings and specialized treatments to help you control the problem for good.
What Are the Advantages of Oral Cancer Screenings?
An oral cancer screening can save your life and can be performed as part of your routine dental cleaning and exam. Even if you don't smoke or drink regularly, you may still have other risk factors for oral cancer. Early detection of the disease is crucial to successful treatment outcomes, especially since oral cancer doesn't typically show any symptoms during its initial stages. We recommend screening for oral cancer starting at age 18, and our dentists have many methods of detecting the earliest signs of the disease. Call our practice today to schedule your dental exam in Westfield.