An intense toothache will have you wondering, "Where can I find emergency dental care near me?" You know that you need treatment, but you are worried about finding a skilled dentist who can handle dental emergencies, alleviate the pain and ensure the pain does not return by providing the proper care. Knowing that local emergency dentists can treat your emergency during regular office hours should give you a feeling of relief. At our dental office, we will set you up with the soonest available appointment that we can to relieve your pain.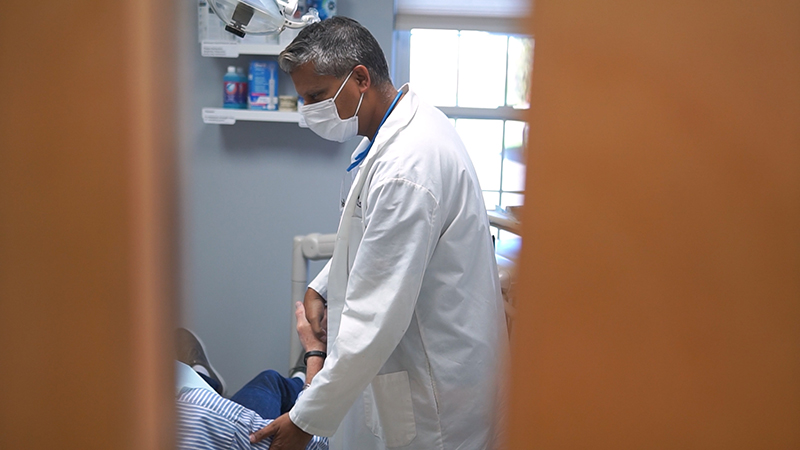 Where Can I Find an Emergency Dental Office?
A painful tooth will have you searching for a dentist who can take care of the problem quickly. Emergency dentists in Westfield will provide you with emergency dental services during regular business hours. Call us to schedule your appointment and we will do our best to accommodate you as soon as possible.
What Is Urgent Dental Care?
Emergency dental care is any service provided by our emergency dentists during regular business hours that relieves severe tooth pain or pressure. A dental emergency should be treated quickly to keep the problem from getting worse. Remember, dental emergencies do not go away on their own. Emergency dentists can address the following problems:
Toothache pain from dental decay
Emergency tooth extractions
Emergency care for chipped, cracked or fractured teeth
Wisdom tooth pain
Loose or lost fillings or crowns
Pain from orthodontic devices
Dental infections
When Should I Seek Emergency Dental Care?
I'm not sure if I need to seek out an emergency dental office near me. When should I contact your emergency dental office?
You should contact us for emergency dental care if you experience one of the following:
Broken or Fractured Teeth
If you have a cracked, fractured or broken tooth, call us for an appointment so that we can arrange an appointment for you. Emergency dentists are capable of diagnosing and treating the tooth so you do not experienced increased pain or sensitivity while eating or drinking.
Knocked-Out Teeth
A knocked-out tooth is scary, but it may be possible to save the tooth. If you can locate the tooth, hold it by the crown, rinse the tooth in warm water and gently place it back in the socket. Call us for an emergency appointment during office hours.
Severe Toothache Pain or Pressure
You should not ignore severe toothache pain or pressure, especially if you have an earache or fever. Even if your toothache subsides, it will return until the underlying issue is addressed. One of our emergency dentists can diagnose and treat you to relieve the pain.
Tooth Sensitivity
Minor tooth sensitivity is not an emergency; however, sudden, acute sensitivity can signal a tooth fracture.
Dental Decay (Cavities)
Left untreated, dental decay leads to large cavities that can cause severe pain. Emergency dentists in Westfield can provide pain relief and will work hard to save your natural tooth.
Abscessed Tooth
An abscessed tooth is one that is infected, in addition to being painful. Contact our emergency dental care office during our regular business hours and will try our best to have you come in that same day. Any delay could lead to serious complications.
Lost or Loose Fillings
If you have lost or loose fillings, call our office and we will try to get you in quickly. The empty space in your tooth leaves the tooth weaker and vulnerable to damage.
Broken Crowns or Lost Restorations
Broken crowns or lost restorations need emergency dental services because the affected teeth are susceptible to damage. Our dentist can offer a temporary or permanent solution.
Orthodontic Pain or Injuries
If you are experiencing pain or discomfort from metal braces or any other orthodontic device, we can help you with the pain and make any necessary adjustments to keep you pain free.
Tooth Enamel Worn by Teeth Grinding
If you grind your teeth while sleeping, you can end up with tooth enamel worn by teeth grinding. Our dentist can fit you with a night guard to save your remaining tooth enamel.
Sinus Pressure
A toothache and sinus pressure may signal impacted wisdom teeth or an oral infection. Emergency dentists can quickly rule out these two conditions and offer corrective treatment.
What Should I Do if I Believe My Problem is More Serious?
I'm worried that I have a more serious problem. Do I wait or call 911?
There are certain dental emergencies that cannot wait. Please go straight to the nearest emergency room or call 911 if you have:
Severe facial swelling
Uncontrolled bleeding
Traumatic injuries to your head, jaw or teeth
How Much Will Emergency Dental Care Near Me Cost?
As you search for, "an emergency dental office near me," the cost of care may be a concern, especially if you are uninsured. We cannot tell you what your cost will be until our dentist examines you, then he or she can give you an estimate. Our office endeavors to treat anyone in need of emergency care as most dental emergencies lead to costlier care if ignored. We offer financing plans, accept most major dental insurance and take credit cards as well.
What Should I Do If I Need After Hours Urgent Dental Care?
If you have an after hour dental emergency and need immediate help for a serious dental trauma, go to the nearest emergency room or call 911. If you have an after hours dental emergency and can wait for care during regular business hours, please call our office and someone will get back to you as soon as possible.