Dental Implants in Westfield
Do you have a missing tooth that is ruining your smile? If so, a dental implant can have you smiling once again. If you choose to get an implant, you can have a replacement tooth that will seamlessly fit in with your surrounding teeth, restoring your smile and your self-confidence. If you would like to learn more about dental implants in Westfield, contact our office to arrange your appointment with our implant specialist.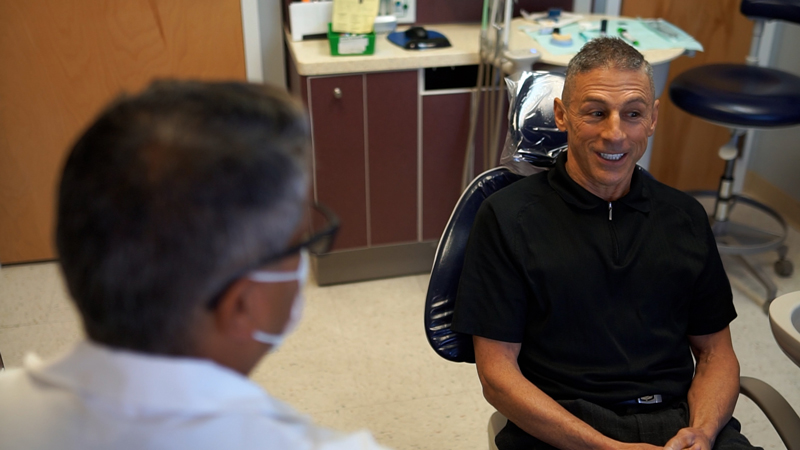 Does a Dental Implant Hold a Prosthetic Tooth?
Since implants are made from a material that your body will not reject, your jawbone grows around them, providing a strong anchor for an artificial tooth (crown). The crown will look just like a natural tooth, plus it will enable you to speak and eat with ease. If you have several missing teeth, implants can hold bridges as well.
What is the Average Implant Price?
Since there are different types of implants, it is difficult to quote a price. Your dental implants cost will depend on the number of implants that you need, the materials used and which dental implants procedure your dentist uses. To receive an estimate of your dental implants cost, you will need a thorough examination by our dentist first. Please contact our office to schedule your appointment today. Once your dentist has examined your mouth, he or she can give you an estimated price and go over your options for affordable dental implants.
Will My Dental Insurance Pay for Implants?
Very few of our patients have dental implants insurance since implants are generally considered elective procedures. We do offer affordable dental implants, even if you do not carry dental implants insurance. Contact us to learn about our financing options, which will make the dental implants cost easier to work into your budget.
How Many Steps Are There in an Implant Procedure?
Both endosteal and subperiosteal dental implants procedures involve surgically placing an implant in your jaw to hold an implant. If you have a healthy jawbone, an endosteal implant is used. If your jawbone has degraded, a bone graft may help replace the missing bone. When a bone graft is not practical, a subperiosteal implant, is implanted below the gum but above the jawbone. During the procedure, our dentist will make you as pain-free as possible. In both cases, the area must heal and give the bone a chance to grow around the implant. After several months, you will have a permanent crown cemented to the implant abutment.
What Benefits Do Dental Implants Offer?
Implants can offer you numerous benefits, including:
The ability to eat as well as you did before you lost a tooth
The implant keeps your face from sinking in and looking older
Implants are indistinguishable from natural teeth
Implants are affordable
What Implant Options Do I Have?
At our dental practice, we offer our valued patients several types of implants, including:
Single Implant
The implant that replaces a missing tooth will function like a natural tooth, not to mention your crown will have a pleasing aesthetic quality.
Mini Implants
Mini dental implants hold dentures in place, preventing them from slipping, and they work for narrow spaces. Because the mini dental implants are smaller and easier to place, minis don't require extensive surgery or healing time.
Implant-Supported Bridge
If you have lost several teeth, a bridge supported by implants may be the best solution for you. The bridge will not rely on the adjacent teeth for support and the implants will prevent further bone deterioration.
How Do I Take Care of My Implants?
Caring for implants is no different from caring for natural teeth. Follow all of your dentist's home-care recommendations and keep your scheduled appointments for checkups and dental cleanings. While the crown or bridge cannot get cavities, you must prevent gum infections, which can cause implant failure.
Am I a Candidate for a Dental Implants Procedure?
If you want to live without a missing tooth, you may be an ideal candidate for an implant. Only an experienced implant dentist can make this determination. Please contact us to schedule an initial examination to learn if you are a good implant candidate.
Will My Implants Last For the Rest of My Life?
Mouth location plays an important role in an implant's longevity. Your implant may last a lifetime if you practice good oral hygiene, but the crown may need replacing in 10 or 20 years.
If what you have learned about implants has made you curious to find out if dental implants in Westfield are an ideal choice for you, please call our office to schedule an appointment.
Call us at (413) 306-4178 today to schedule your appointment or book an appointment online.