Root Canals Explained
Inside your tooth is a type of soft tissue called pulp. When this becomes damaged from advanced tooth decay, you can experience tooth pain that can interfere with your daily life. Endodontic therapy, or root canal surgery, is a procedure designed to save and repair a tooth that is badly infected or damaged.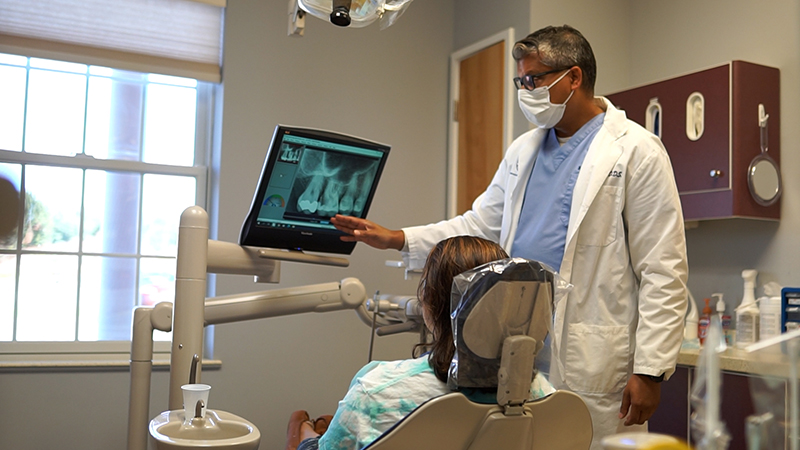 When Is a Dental Root Canal Needed?
If your tooth has extensive decay or has become infected, a dental root canal is needed to save your tooth and prevent an extraction. Look for these warning signs to help determine if you could benefit from root canal therapy:
A constant toothache that is moderate to severe
Pain when biting
Tooth sensitivity to hot or cold temperatures
Tooth discoloration or darkening
Swelling and tenderness of the gum tissue surrounding the tooth
What Type of Dentist Can Perform Root Canal Surgery?
General dentists, and specialists called endodontists, are dental professionals who can perform root canals. To schedule an appointment with an experienced root canal dentist, contact us today to make an appointment.
How Are Root Canals Performed by General Dentists?
The average length of time needed for a root canal procedure is about one or two hours, but will depend on your situation. Here us a step-by-step guide to the procedure:
1. A local anesthetic will be used to numb the affected tooth.
2. When you are sufficiently numb, the dentist will make an opening in the tooth to access the pulp chamber.
3. The pulp and decayed nerve tissue will be carefully removed.
5. Your dentist will also shape the inner part of the tooth so it can be filled with a putty.
6. An antibacterial solution might be put into the exposed root canals to disinfect the inside of the tooth and remove debris.
7. The tooth will be filled with a rubber-like material called gutta-percha.
8. A permanent crown is used to cap the tooth and restore biting power.
Average Root Canal Cost
The cost associated with this procedure is not the same for every patient and is determined by our dentists after an evaluation of your mouth. The location of the tooth that needs to be repaired, how many roots the tooth has, and the severity of decay to the affected tooth are all factors that determine your total cost. The cost of your treatment also depends on whether you need to consult with an endodontist or general dentist and if you have dental insurance. For more information about your total root canal cost, call us today to schedule an appointment.
What Are the Different Types of Root Canals?
A root canal crown is the most common procedure, though other options are available. An apicoectomy is an alternative procedure that removes the top portion of the tooth's nerve, and is typically performed after an initial treatment was unsuccessful. Another alternative treatment is pediatric pulpotomy in which the damaged pulp is removed, leaving the tooth's nerve intact.
Does a Dental Root Canal Hurt?
When you're told you need root canal treatment, the first thing you think about is probably pain. However, the pain you're feeling is caused by the infection in your tooth, not by the treatment you need. Dental root canal treatment is performed to relieve pain, and with the help of numbing medication, the procedure itself is painless. Take the first step in relieving your pain and improving your oral health. Contact us today, and schedule an appointment to get a root canal in West Springfield. Call us today at (413) 507-0119 or book an appointment online.