Dental Implants in West Springfield
Dental Implants are an ideal long-term solution if you are missing a tooth. Many people age 40 and over are missing a tooth, but no one has to know that you are missing one. The crown on the end of the implant is strong and it will blend in with your surrounding teeth, so much so that you may forget that you have an implant. No one will know that the crown is not one of your natural teeth. If you have been considering an implant, please call us to see if you are a good candidate for dental implants in West Springfield.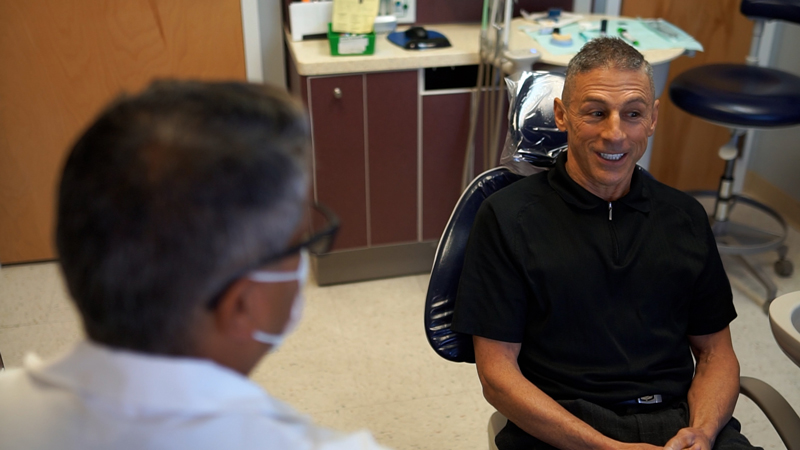 What is a Dental Implant?
Dental implants are artificial tooth roots that can hold a crown or a bridge. Implants are popular with people who have lost one or more teeth and who want their smile back while preserving their jawbone structure. Implants can hold a single crown or they can support a bridge if you have multiple missing teeth.
Is the Dental Implants Cost Reasonable?
Your dental implants cost isn't possible to estimate because each patient has unique needs. Our affordable dental implants prices are based on the materials used, how many implants you need and whether or not you need a bone graft first. There are different costs associated with endosteal and subperiosteal implants as well. Please contact us to arrange an appointment for an examination to learn more about your potential dental implants cost.
Is There Dental Implants Insurance Coverage in Most Dental Insurance Policies?
No, dental insurance hardly ever covers implants, but you should always verify your coverage with your insurance company or you can ask us to check if you have dental implants insurance coverage as part of your policy. We do offer financing options on our affordable dental implants to our patients who need to spread the payments out over time.
How Many Steps Are There in the Typical Dental Implants Procedure?
In both endosteal and subperiosteal procedures, the first thing a dentist does is to give you local anesthesia to make you as comfortable as possible. The first phase of the procedure involves surgically planting the implant and then waiting for the implant to meld with the bone. The implant is made from a biocompatible material so it will act as an anchor for a bridge or a crown. A custom crown or bridge is built in the meantime. On the next visit, the dentist attaches the abutment and then he or she places the crown or bridge on the abutment.
What Advantages Does a Dental Implants Procedure Offer?
When you choose to have an implant to replace a missing tooth, you will enjoy the following advantages:
You will enjoy greater self esteem with a full set of teeth
An implant can stop bone degradation
Implants look perfectly natural
Implants are surprisingly easy to care for
Are There Various Types of Implants?
Yes, you have options for an implant, which include:
Single Implant
For a single missing tooth, an implant provides a life-like replacement that functions exactly like a natural tooth.
Mini Implants
Mini dental implants grip dentures and prevent further bone loss. These implants are also used when you need an implant in a very narrow space within your mouth.
Implant-Supported Bridge
Fixed bridges supported by implants have several advantages, but the primary reason is that the adjacent teeth do not have to support the bridge. Additionally, unlike a traditional fixed bridge, the implant helps preserve your bone structure.
What Do I Do To Care for My Implant?
Implants do not require any special care. Brush after each meal and floss your implant along with your other teeth. Your dentist will arrange regular checkups and cleanings to keep your implants in top working order.
Who Makes an Ideal Implant Candidate?
If you would like to have a full set of teeth once again, you may be a candidate for a dental implants procedure. Many adults are good candidates. First, you would need to confirm your suitability with an implant expert. Contact our office to schedule an appointment to determine if you can have a full smile with implants.
Is a Dental Implant a Permanent Solution?
Implant failure is rare, however, gum disease or trauma may cause a problem. Good oral hygiene will help prevent gum disease. See your dentist regularly for teeth cleanings. You should treat an implant like one of your natural teeth, the better your oral hygiene habits, the longer your implant will last.
If you would like to see if a dental implant is right for you contact our dental implants in West Springfield office for an appointment with one of our implant experts. Call us today at (413) 507-0119 or book an appointment online.