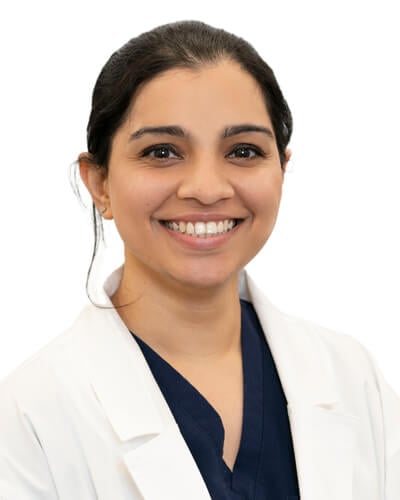 Dr. Saboori Sobti is a general dentist dedicated to providing high-quality patient care. She recognizes that the key to building lasting patient relationships is open and honest communication, paired with compassion. Dr. Sobti takes the time to understand her patients' concerns, ensuring she addresses all their dental needs.
Dr. Sobti first earned a Bachelor of Dental Surgery from Sharad Pawar Dental College, DMIMSU, Wardha, India. Once in the United States, she continued her education at Tulane University, School of Public Health and Tropical Medicine in New Orleans, LA, earning a Master of Science in Public Health, Global Environmental Health Sciences. Dr. Sobti earned her Doctor of Dental Surgery degree from Indiana University School of Dentistry in Indianapolis, IN. She is a firm believer in continuing education which keeps her up-to-date on the latest dental advances and techniques.
Dr. Sobti's dental focus includes comprehensive dentistry, extractions, fillings, dentures, crowns bridges and partials.
She is a member of the American Dental Association and the Indian Dental Association.
Dr. Sobti is multilingual, speaking fluent English, Hindu and her native language, Punjabi.
Dr. Sobti has volunteered countless hours to community outreach clinics and special events, providing much needed dental care and information to the underserved and those with special needs in Indiana, South Dakota, and New Orleans. While attending Tulane University, Dr. Sobti was a participant in the Oral Health Education, Pre-Dental Society, teaching oral care and proper brushing methods to kindergarteners, 1st and 2nd graders.
Outside of the office, Dr. Sobti enjoys reading, running, hot yoga and traveling.