No one likes getting a tooth pulled, and we don't like doing it either, nevertheless, there are circumstances when an extraction is in our patient's best interest. Our dentists are skilled at performing fast, virtually painless extractions.
Is Dental Tooth Removal Always Necessary?
Our dentist will loosen your tooth after numbing the area and then pull the tooth out with a pair of forceps. A dental tooth extraction is a fast procedure. If the tooth is broken at the gum line or the tooth hasn't emerged yet, our dentist will send you to an oral surgeon to perform the extraction.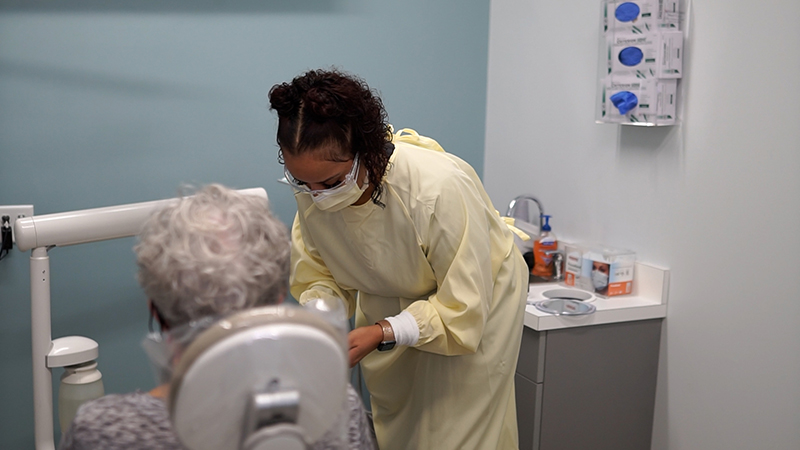 How Much Does it Cost to Get a Tooth Pulled?
Your tooth extraction cost will depend on the difficulty of the extraction. Dental extractions cost significantly less than surgical extractions, in part because general anesthesia is more costly than local anesthesia. Please contact our office for an appointment and then our dentist can give you an estimate of the cost after an examination.
When Do Dentists Recommend Having a Tooth Pulled?
Dentists usually pull teeth when there is no other option available to preserve the original tooth for the patient.
Is Your Tooth Broken or Cracked beyond Repair?
If there is nothing else that our dentist can do, he or she will pull the tooth for you if you have cracked the tooth severely.
Do You Have a Very Bad Toothache?
Dental decay (cavities) can cause severe pain. If the cavity is too big to fill and a crown isn't possible, our dentist will perform a tooth extraction, which will stop the pain. Please call us right away for an appointment if you are in severe pain.
Do You Have Too Many Adult Teeth?
When an adolescent's jaw is too small for their adult teeth, it causes the teeth to grow in out of alignment. Braces will realign the teeth, but only if the extra teeth are removed. We can perform any teeth extractions needed.
Do You Have Advanced Stage Gum Disease?
When gum disease is treated early, it is reversible. If left untreated, advanced stage gum disease eats away at what holds your tooth in its socket. Your teeth will become loose and there is nothing our dentist can do except to pull them. Please call for an appointment if your teeth are becoming loose in your mouth.
Do You Have Pain Where Your Wisdom Teeth Should Be Emerging?
If you are experiencing swelling or jaw pain, your wisdom teeth may be having trouble emerging. They may not come out at all or they may come in at an angle that is damaging to your other teeth. Some people simply don't have room for more molars. If our dentist believes that a simple extraction is all that you need, he or she will do the procedure at our office. If you need a surgical extraction, our dentist will refer you to an oral surgeon in the community.
What Do I Do in the First 24 Hours After a Tooth Extraction?
You will rest with your head elevated and sip tepid liquids only. Do not drink through a straw, smoke or drink any hot liquids. Our dentist will give you additional instructions and a schedule for taking pain medication. Please ask if you have any questions about what you are allowed to do once you are home.
How Can I Make My Tooth Extraction Healing Quicker?
In general, a clean extraction site heals quickly. Rinse with salt water if our dentist tells you to and brush everywhere in your mouth except for the extraction site. In a healthy individual, a dental extraction can heal in as little as 10 days.
If you are concerned that you need a tooth extraction in Springfield, contact us to arrange an appointment. Call us today at (413) 507-0115 or request an appointment online.