Looking for a Dentist that Offers an Affordable Dental Exam and Professional Cleaning?
Our dental office provides modern technology and equipment in a relaxing environment. We think you'll find our team of dental professionals to be caring and compassionate team and committed to providing the comprehensive dental care you need to meet your dental goals. During your first appointment for a dental exam, our dentist will carefully examine your mouth, checking for the most common symptoms of the dental problems listed below.
Tooth decay
Gum disease
Teeth grinding
Loss of bone
Oral cancer
Whether you need a complete dental exam, gum disease treatment, or thorough professional cleaning, we offer a wide range of dental services that focus on your physical comfort while also giving you the peace of mind that you're being taken care of by experienced, compassionate dentists. Call us today to set up an appointment for a dental exam in Springfield.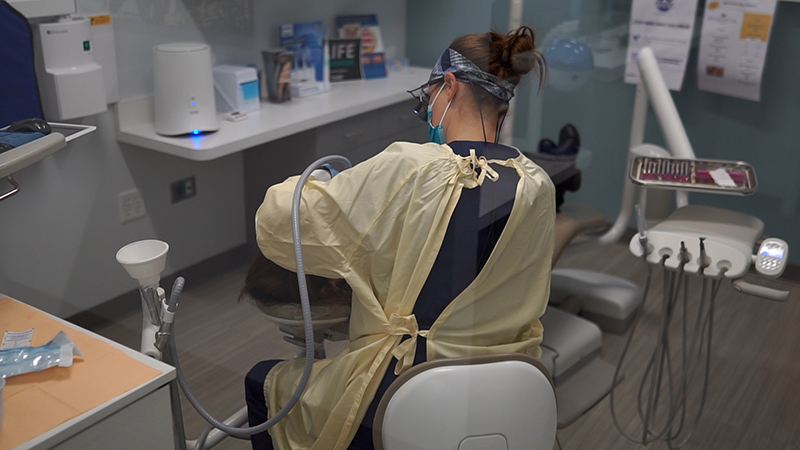 Important Benefits of Dental Cleanings
You might be surprised to learn that professional teeth cleaning offers more benefits than brightening your smile. When combined with brushing and flossing each day at home, dental cleanings can help remove harmful plaque and tartar before they can accumulate on your teeth further and cause more serious problems, such as gingivitis, periodontal disease, and tooth decay.
Benefits of Gum Therapy Treatment
Gum disease is an infection of the gums and surrounding tissue that supports your teeth. It occurs when plaque builds up on your teeth, causing inflammation of your gums. If your gums are red and swollen or if they bleed when you're brushing or flossing, you may have gum disease and should seek treatment from a dentist. When not removed during daily brushing and flossing, plaque can harden into calculus, which can only be removed by a dental professional. If left untreated, gingivitis can can progress to periodontitis, a serious form of gum disease that can lead to tooth loss if you don't receive treatment from a dentist.
Is it Possible to Permanently Cure Bad Breath?
If you're struggling with bad breath, you're very familiar with the embarrassment it can cause. The medical term for the condition is halitosis, and it is a common problem that affects millions of people. It can occur from eating certain foods, dry mouth, gum disease, tooth decay, or from lack of oral hygiene. Our dentists have the knowledge and experience necessary to help you get rid of bad breath. Through regular professional cleanings, consistent at-home brushing and flossing, and specialized treatments during your dental exam, we can help you quickly and easily solve the problem.
What Is an Oral Cancer Screening?
Oral cancer doesn't only affect people who smoke or drink regularly. Anyone can develop the disease, and since it typically doesn't show any symptoms in its early stages, it's possible for the condition to spread to other areas of your body by the time you notice a sore or lump in your mouth. However, with early detection, it's possible for oral cancer to be successfully treated. The experienced dentists at our practice can detect oral cancer in its initial stages by performing an oral cancer test during your routine dental exam in Springfield. For more information on what's involved with the screening exam, we encourage you to call our office to schedule an appointment.