If you're experiencing severe tooth pain, a lost filling or a broken tooth, it's often difficult to know where to turn for dental emergency treatment. You may be asking yourself, "Where can I find emergency dental care near me?" Prompt, urgent dental care can ease your pain and prevent further damage to your teeth and gums. Read on to learn about dental emergencies and where you can find emergency dental services.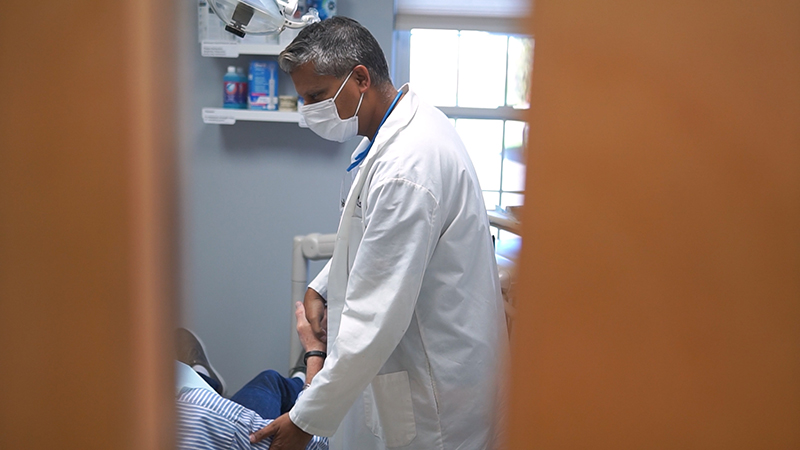 What Types of Services Are Included in Emergency Dental Care?
If you have a chipped tooth or a severe toothache, you may not be sure if your problem is considered urgent enough to require emergency dental care. Emergency dental services generally include dental problems that involve acute pain, structural damage or other conditions that would worsen with delayed treatment. Emergency dentists in Springfield are capable of performing a variety of dental services. Our dentists are available during regular business hours to treat a large range of dental emergencies such as:
Dental infections
Tooth extractions
Tooth repair
Filling or crown restorations
Tooth pain, including wisdom tooth discomfort
Pain or issues caused by orthodontic equipment
How to Find an Emergency Dentist
Don't delay treatment for toothaches or other oral pain. Chipped teeth, cracked crowns and dental pain are warning signs of a problem, so you're risking complications if you wait to see if the pain fades. Instead of wondering, "Is there an emergency dental office near me," call us during regular office hours for an emergency dental care visit. We'll do our best to schedule a prompt appointment for you. Emergency dentists offer comprehensive emergency dental care, working to diagnose your dental problem, relieve your pain and treat the cause of the issue.
Knowing When to Call for Emergency Dental Treatment
I don't know if my tooth pain is a dental emergency or not. When should I call emergency dentists in Springfield?
If you suffer from any of the following symptoms or issues, please call us for urgent dental care:
Broken Crowns or Lost Restorations
Teeth with broken crowns or lost restorations are susceptible to damage, decay and infection. Temporary and permanent crowns and restorations provided by emergency dentists can protect your tooth.
Cracked or Broken Tooth
Getting prompt treatment for a fractured or broken tooth helps you avoid additional complications such as structural damage and infection.
Knocked-Out Tooth
Emergency dentists can often re-implant a knocked-out tooth if you seek prompt care. Rinse off your knocked-out tooth with warm water as soon as possible after the injury. Gently place the tooth in its socket, holding the tooth by its crown, then call us for additional instructions.
Missing or Loose Fillings
Even if you don't feel pain from lost or loose fillings, it's important to seek prompt treatment in an emergency dental office.
Abscessed Tooth
Many issues can cause an abscessed tooth, from tooth decay to trauma. If you have an abscessed tooth, you may experience extreme toothaches or sensitivity, facial swelling, fever, a bad taste in your mouth and swollen gums or swollen glands in your neck. Call our office right away if you experience these symptoms; an untreated abscessed tooth can lead to significant complications.
Severe Toothache or Pressure
Severe toothaches accompanied by fever, earache or pressure should be dealt with right away. Call our office for an urgent appointment to prevent infection and other complications.
Sinus Pressure
When you experience sinus pressure and tooth pain together, it can be difficult for you to know whether you have a sinus issue or a tooth issue. Emergency dentists can determine if your tooth pain is caused by a dental issue such as an infection or impacted wisdom teeth.
Tooth Sensitivity
Acute or sudden tooth sensitivity can be the result of issues such as gum infections or tooth fractures.
Cavities (Dental Decay)
Dental decay can cause large cavities that can reach the tooth root. There, the cavity will eventually expose the tooth root, causing pain and the potential for infection.
Orthodontic Pain and Injury
Metal braces often cause pain or small oral injuries. Emergency dentists can make adjustments to relieve your pain and prevent additional problems.
Tooth Enamel Erosion from Teeth Grinding
If you grind your teeth, you may cause tooth enamel erosion that leaves your teeth vulnerable to pain, decay and other complications. Emergency dentists help prevent further damage by reinforcing worn enamel and creating night guards for your use.
More Serious Problems
Should I call an emergency dental office near me or call 911 if I think I may have a more serious dental problem?
Specialized or more immediate care may be needed for some dental issues. Call 911, your primary care physician or your oral surgeon or go to a nearby hospital emergency room if you experience any of the following:
Facial, head, teeth or jaw injuries
Severe bleeding
Serious facial or gum swelling
What should I do if I have a serious dental issue at night or on a weekend? Should I seek emergency dental care near me or call 911?
The severity of your symptoms, condition or injury determines the type of emergency treatment you need. If you think you may need immediate care after our regular emergency dental office hours, it's probably best to call 911 or go to the nearest hospital's emergency room rather than delay treatment and risk serious complications. For other urgent dental needs arising during normal office hours, our dentists will strive to see you as soon as possible.
How Much Are Emergency Dental Visits?
The cost of emergency care depends on the type of treatment you need. Our office accepts most major insurance plans, and we offer a variety of financing options for your convenience. We also accept most major credit cards.
Call us to find out more about how you can save money on urgent dental treatment. Call us today at (413) 507-0115 or request an appointment online.