Dental Implants in Springfield
You don't have to let missing teeth keep you from attending social or professional functions anymore. With our dental implants in Springfield, you can smile and laugh without feeling self-conscious. Imagine being able to laugh spontaneously once again and not have to cover your mouth with your hand. Implants can make this a reality for you.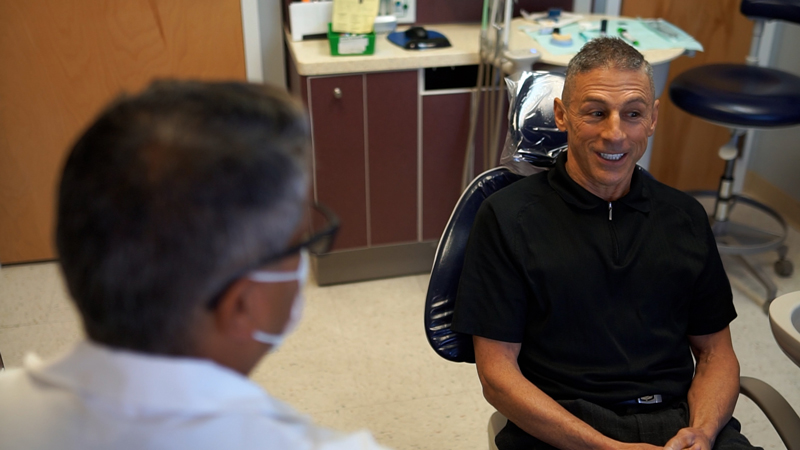 Do Implants Replace Missing Teeth?
Yes, implants do replace missing teeth, as well as support bridges and stabilizing dentures. An implant is a post or framework that holds a crown. Implants look and feel exactly like natural teeth, so no one will be able to tell your implant from your natural teeth.
Can I Get an Estimate of My Dental Implants Cost Beforehand?
Each patient has different needs. Therefore, the dental implants cost will vary, but we think you'll find we offer affordable dental implants for our patients. Some of our patients need a tooth extracted or a bone graft procedure before the dental implants procedure begins. We also have patients who need a subperiosteal implant because a bone graft wasn't possible and patients who have a healthy jawbone and who are candidates for an endosteal implant. If you call our office and schedule an appointment, one of our dentists can provide you with a dental implants cost estimate after your examination.
Do Patients Typically Have Dental Implants Insurance?
Dental implants insurance is not part of a typical dental insurance policy. We would be happy to check your coverage or you can contact your insurance company directly. If you are a cash customer, you will find that we offer surprisingly affordable dental implants. If the upfront cost is beyond your budget, we offer flexible payment options as well.
How Many Visits Does the Dental Implants Procedure Require?
During the first phase of the dental implants procedure, a post or metal framework is surgically inserted, depending on whether you are having an endosteal or a subperiosteal
implant. During this time, our dentist will do his or her best to make the experience as painless as possible.
During the next two to three months, the implant firmly attaches itself to your jawbone. When you heal and your crown is ready, you will go in and our dentist will place the crown.
What Are the Rewards of Having Implants?
Implants offer valuable rewards beyond replacing a tooth.
Your implant will protect your jawbone from further degradation
Your implant is a cost-effective restoration because it will outlast dentures or bridges
Implants may have a positive effect on your social or professional life
Your implant will function the same as your other teeth
Is There an Ideal Type of Implant For Me?
You and your dentist can decide on your course of treatment after a clinical evaluation. Your options may include:
Single Implant
If you have one missing tooth, an implant provides an ideal solution. Your bone structure will remain intact and you will have a fully functional tooth that very closely resembles your natural teeth.
Mini Implants
Mini dental implants increase denture function by stabilizing the dentures so they cannot slip. Additionally, they can be used when an implant in required in a narrow section of the mouth. Mini implants help prevent bone loss and only require minimal surgery.
Implant-Supported Bridge
A fixed bridge supported by implants is the ideal solution for missing teeth. The titanium implants will help prevent bone loss, preserving the appearance of your lips and cheeks.
Is There Any Special Care I Need to Do to Keep My Implants Healthy?
You can ensure the longevity of your implant by brushing after every meal and flossing once a day. These two things, along with regular professional cleanings help prevent gum disease, which impacts the health of your implant.
Who Is a Good Implant Candidate?
If you are an adult in good health who wants to have a complete set of teeth, you are likely a candidate for an implant. Only an experienced implant dentist can decide if you really are a good candidate. Please contact us if you are interested in an implant and we will schedule an examination for you.
Do Tooth Implants Last a Long Time?
Implants are a long-term solution that can last a lifetime. The location of your implant and your adherence to your recommended oral hygiene routine determines how long your implant will last.
If you believe that an implant is the solution that you have been seeking, call our dental implants office in Springfield to arrange your appointment. Call us today at (413) 507-0115 or request an appointment online.