When a missing restoration or painful tooth is causing you to miss out on your favorite activities, it may be time to seek emergency dental care. This branch of dentistry focuses on urgent, comprehensive services that relieve a patient's pain or repair structurally damaged teeth. Many skilled emergency dentists in Belchertown offer a full range of urgent services, helping patients get back to their regular activities quickly.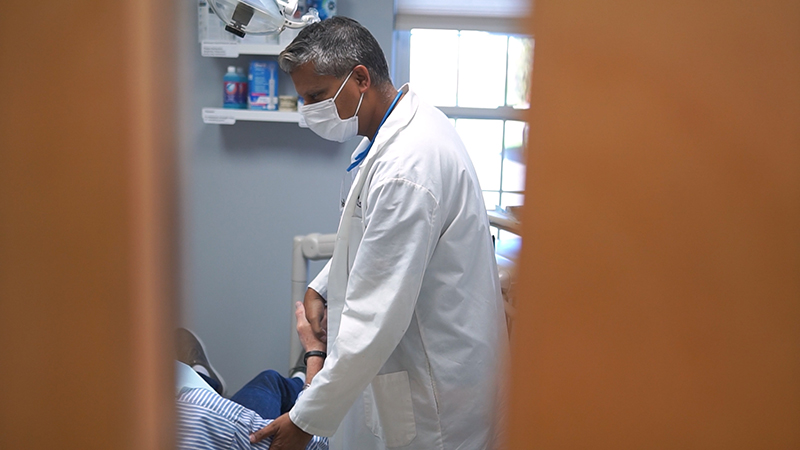 Where Can I Find an Emergency Dental Office Near Me?
Finding the right dental office is key when it comes to receiving the urgent dental care you need. Our conveniently located practice offers a full range of emergency dental services during normal operating hours. If you're experiencing symptoms of a dental emergency, call us now to book an appointment. We aim to see patients with urgent needs as quickly as possible, with same-day appointments often available. If you're searching for compassionate, affordable dental care, give us a call to find out what services are available.
What Services Can I Receive from Emergency Dentists?
The emergency dentists in Belchertown are committed to helping you restore your smile's function. In most cases, emergency dental services include any procedure or medication administered to relieve pain or restore damaged teeth. Some of the services our dentists provide during regular business hours include:
Emergency tooth extractions, if necessary
Repair for fractured or broken teeth
Replacement tooth crowns and fillings
Pain relief for orthodontic discomfort
Wisdom tooth pain management
Treatment for severe infections, including abscesses
Should I Look for Emergency Dental Care Near Me?
What symptoms require treatment by emergency dentists in Belchertown? When do I need to call a local emergency dental office?
Many common dental health problems can cause further complications if left untreated. Call our office for emergency dental care during regular business hours if you experience the following oral health issues:
Knocked-Out Teeth
Knocking out a tooth can be frightening, but it's important to know that receiving prompt emergency dental care can help you save the tooth. If possible, place the tooth back inside its socket and call our office immediately to book an appointment.
Structurally Compromised Teeth
Broken or cracked teeth should be examined by a dentist immediately to prevent infection. Sometimes, jagged edges around the affected tooth can cut other areas of the mouth. If this occurs, use dental wax to smooth out these edges while you wait for your appointment.
Oral Pressure and Pain
A throbbing sense of pain around the teeth should not be ignored. If you have a painful toothache that won't go away, call any emergency dentists. We'll pinpoint the cause of the discomfort and provide quick treatment and pain relief.
Sensitive Teeth
While many people occasionally experience oral sensitivity, severe tenderness on the tooth's surface may indicate an infection or fracture. Contact local emergency dentists if you suddenly experience oral sensitivity.
Dental Decay (Cavities)
A common dental health problem, cavities can cause pain and pressure if left untreated. If you suspect a cavity, call our dentist for an exam and treatment. Scheduling regular cleanings at our office is the best way to prevent cavities.
Infected Tooth Root (Dental Abscess)
When severe tooth decay or gum disease doesn't receive proper treatment, the tooth root itself can become infected. Known as a dental abscess, this infection causes open sores, fever, and excruciating oral pain. Call our office immediately if you suspect an abscess.
Broken or Lost Tooth Fillings
Lost or damaged tooth fillings leave the affected tooth vulnerable to further decay. If your filling is missing or dislodged, give us a call. We'll provide you with a replacement filling that keeps your tooth protected.
Damaged or Missing Restorations
When a crown or bridge is damaged or missing, it can cause aesthetic issues with your smile. Moreover, missing restorations can also leave the affected area unprotected against injury and decay. Contact emergency dentists near you for a replacement appliance.
Orthodontic Discomfort
Braces are a great way to align your smile, but they can also cause discomfort. If your appliance is causing soreness or pain, contact skilled emergency dentists for an adjustment.
Nighttime Tooth Grinding
Persistent tooth grinding can cause soreness around the teeth due to worn enamel. Fortunately, night guards and enamel reinforcement from an emergency dental office can offer relief.
Sinus Pain
Sometimes, persistent sinus discomfort has a dental cause, including infection or impacted wisdom teeth. If you have sinus pressure accompanied by a toothache, seek urgent dental care to rule out an oral health cause.
What to Do When a Dental Emergency Is Serious
My local dental office is closed, and I think my symptoms are serious. Where can I find emergency dental care near me?
Sometimes, severe dental health problems require more specialized care than an emergency dentist office can provide during regular business hours. If you experience any of the following oral health problems, don't delay – call 911, your primary care physician, or locate an emergency room. These conditions include:
Trauma to the head or teeth
Continuous oral bleeding
Painful swelling around the gums or face
What Does It Cost to See an Emergency Dentist?
When a dental health emergency occurs, many patients are concerned about financial matters. They might wonder, "Can I afford to visit an emergency dental office near me?" In fact, many people avoid seeking emergency dental care, believing the problem will go away on its own. This can lead to more severe dental health problems that are more expensive to resolve. Our dentists and team members understand that you may face financial challenges when it comes to affording emergency dental care. We work closely with families to help them find a solution that meets their dental health needs and budget. Flexible financing may be available, which divides the cost of care among several monthly payments. Our team members work with many dental insurance providers, helping you maximize your coverage. Please call your local emergency dentists for more information regarding insurance and payment options.
Call us today at (413) 241-7686 or book an appointment online.