Do you wish you didn't have a missing tooth? It can make you feel like everyone is staring at you when you speak or smile. With an implant, you can have a permanent replacement tooth that will look just like the surrounding teeth, so you can smile with confidence. Learn more about dental implants in Belchertown by calling our office today.
What Are Dental Implants?
An implant is a titanium screw surgically placed in your jawbone, acting like a tooth root. This is typically called an endosteal implant. If you do not have enough jawbone left and are not a good candidate for a bone graft, our dentist may suggest a subperiosteal implant, which is a metal framework implanted above the gum line which holds the implant. When our dentist places a tailor-made crown on the implant abutment, no one will know that the crown is not one of your natural teeth.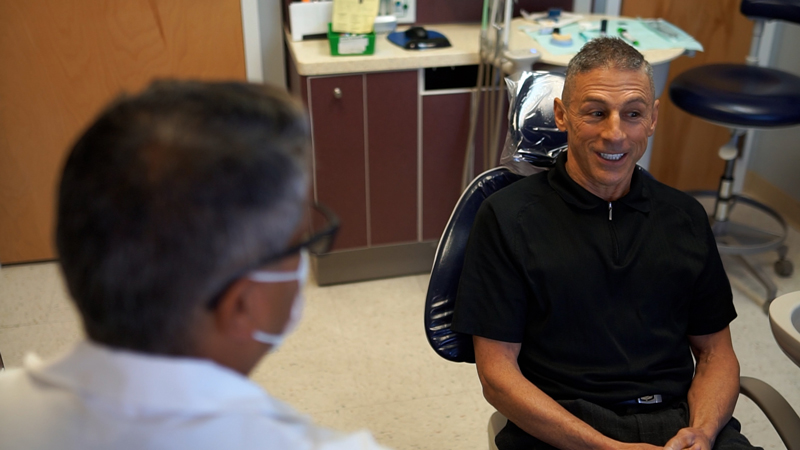 What Does the Average Dental Implants Procedure Cost?
It's impossible to give you an accurate dental implants cost estimate without our dentist examining you first. There are many variables that will determine the cost, including if you need an endosteal implant or a subperiosteal implant procedure, if bone grafting needs to be completed and the crown material that you select. Contact our office to schedule an initial consultation to speak with our dentist about your estimated dental implants cost. We strive to offer affordable dental implants so our patients can achieve the beautiful smile that they deserve.
What Would Dental Implants Cost with Insurance?
Unfortunately, dental implants insurance coverage does not exist with many policies, but even without dental implants insurance, your dream smile is not necessarily out of reach. Check with your dental insurance provider to determine if they will pay part the cost. To find out more about our financing options for affordable dental implants, call our office to request an appointment.
How Does the Dental Implants Procedure Work?
The typical dental implants procedure starts with our dentist surgically implanting a post into your jawbone. During the month or two that it takes the implant to fuse with your jawbone, a dental lab is busy creating your custom crown. Once your crown is ready, our dentist cements the crown on the abutment at the end of the post, giving you a firmly implanted artificial tooth that looks and functions the same as a natural tooth.
What Are the Benefits of Dental Implants?
Implants have numerous benefits, including:
Improved ability to chew
Easier to brush and floss compared to a bridge
Increased confidence both professionally and personally
More natural feel than a bridge
To learn more about your options for dental implants in Belchertown, call our office to schedule your appointment.
What are the Different Types of Tooth Implants Available?
Different types of implants give patients a variety of choices. We offer:
Single Implant
One implant replaces a single missing tooth to create a uniform appearance. This is a more permanent solution than a bridge.
Mini Implants
These are smaller implants that require only minimally invasive surgery. Your dentures are custom-made to securely grip the implants. You can remove your dentures at any time and then snap them back in.
Implant-Supported Bridge
A bridge supported by implants, as opposed to the surrounding teeth, is an option for two or more missing teeth.
Please call us to discuss your options with our dentist to ensure that you choose the best solution for your particular needs.
How Do I Care for My Implant?
Initially, you may experience minor discomfort that an over-the-counter pain reliever should alleviate. Otherwise, treat your implant like any other tooth by brushing and flossing regularly. Additionally, follow the dental checkup schedule set by your dentist as he or she will need to take x-rays and see you for regular visits to ensure your implants are healthy.
Am I a Good Candidate for an Implant?
If you are missing one or more teeth and you feel self-conscious when you smile, you may be a candidate for an implant. Only a qualified dentist can judge whether you are a good candidate and which type of implant is right for you. To see our dentist for an implant evaluation, please call our office.
How Long Do Dental Implants Last?
Implants last for at least 10 years, but they can last a lifetime. Your oral hygiene and where the implant is located in your mouth determine how long they will last. An implant lasts far longer than a bridge, making them a cost-effective solution to a missing tooth. If you have any missing teeth, call us to learn more about the advantages of implants.
Call us today at (413) 241-7686 or book an appointment online.