When you're suffering from a throbbing tooth or the painful sensation of pressure, you might be experiencing a dental emergency. These uncomfortable symptoms may lead you to ask, "Is there an affordable emergency dental office near me?" Receiving dental care in a timely manner is essential when it comes to restoring your oral health.
How Can I Find Emergency Dental Care Near Me?
If you're experiencing symptoms of a dental emergency, it's important to receive care from a dentist quickly. When left untreated, many dental issues may become more severe or painful. Plus, extensive dental issues are often more expensive to repair. Don't let your symptoms become worse – instead, call for emergency dentists in Western Massachusetts. Our goal is to schedule emergency dental care appointments as quickly as possible, helping patients of all ages find relief.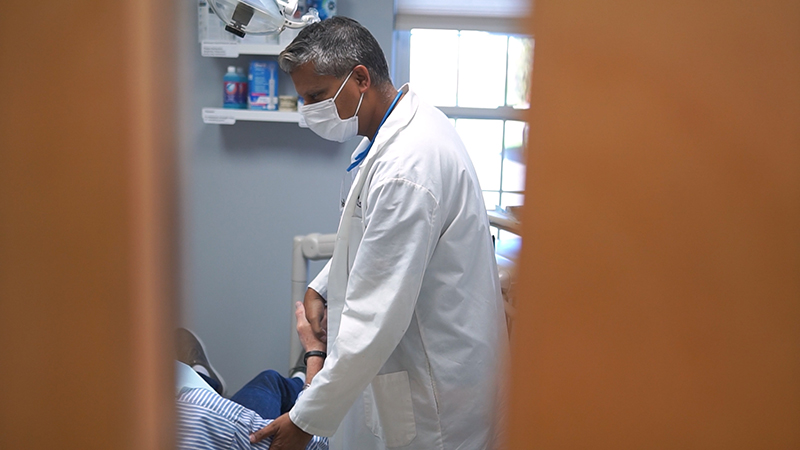 What Services Do Emergency Dentists Provide?
When you're wondering, "How can I find comprehensive emergency dental care near me?", you might also be questioning what services are considered urgent. Typically, emergency dental care includes any service that relieves pain, repairs a structural issue, or addresses a severe infection. Other emergency dental services provided by our dentists include:
Emergency extraction of damaged teeth
Repair of structurally damaged teeth
Replacement restorations, including crowns and fillings
Orthodontic pain management
Pain relief for wisdom tooth complications
Urgent care for toothaches caused by cavities or infections
When Is It Time to Call an Emergency Dental Office Near Me?
I'm not sure if my symptoms are considered an emergency. When should I call a dentist for emergency dental care?
If you're experiencing any of the following symptoms, contact emergency dentists in Western Massachusetts for treatment and pain relief:
Avulsed Teeth
In dentistry, an avulsed tooth simply means that the tooth has been knocked out. While this may seem frightening, it's helpful to understand that many knocked-out teeth can be saved with emergency dental care. Find as many pieces of the avulsed tooth as you can, and contact our office to make an appointment.
Broken, Fractured, or Cracked Teeth
A tooth that has been structurally compromised may become infected, so receiving prompt treatment is necessary. If jagged edges along the broken tooth's surface are causing discomfort, cover them with dental wax and get in touch with any emergency dentists.
Intense Oral Pain
A toothache that doesn't go away can have several causes and should be evaluated by skilled emergency dentists. Get in touch with the emergency dental office to make an appointment, especially if you also have a fever or ear pain.
Oral Sensitivity
Occasional tooth sensitivity often isn't serious; however, a severely sensitive tooth may be cracked or infected. A tooth that has suddenly become tender should be examined by a dentist.
Cavities
When decay isn't properly removed from the teeth, cavities can develop. Large cavities can lead to oral pain and structural damage, so early treatment is necessary.
Dental Abscesses
When severe periodontal disease leads to an infected tooth root, the infected tooth root is referred to as an abscess. Dental abscesses can be extremely painful, causing intense pressure, fever, and draining sores. If you suspect an abscess, it's important to see a dentist immediately to prevent further complications.
Missing or Damaged Fillings
If one of your tooth fillings is missing or loose, the affected area may be vulnerable to damage. Contact our office to receive a new filling that protects your tooth from decay.
Broken or Lost Restorations
Not only does a lost or broken restoration look unpleasant, it also can leave your smile susceptible to damage. Emergency dentists can provide replacement restorations that keep your smile intact.
Pain Associated with Braces
While braces are a great way to straighten your smile, they can sometimes cause discomfort. If your braces have become difficult to wear, contact emergency dentists in Western Massachusetts for urgent dental care.
Worn Tooth Enamel
Those who grind their teeth at night may experience pain associated with worn enamel. Mouth guards and enamel reinforcement from emergency dentists can eliminate this discomfort. Give our dentists a call if your nighttime grinding has caused oral sensitivity.
Pain Around the Sinuses
Many patients are surprised to learn that the teeth and sinuses are connected. Sinus pressure and a toothache that occur at the same time can indicate an impacted wisdom tooth or infection. Contact local emergency dentists if you're experiencing these symptoms.
What Should I Do When the Problem Is Serious?
I believe my symptoms are serious. Should I wait to book an urgent dental care appointment, or should I seek immediate treatment?
While our skilled dentists can treat a host of emergency dental problems during regular business hours, some conditions warrant immediate care. Contact your oral surgeon, primary care doctor, or locate a hospital if you're suffering from the following:
A severe blow to the head or teeth
Constant bleeding from the mouth
Swelling around the face or gums that doesn't respond to home care
How Much Does It Cost to See an Emergency Dentist?
The cost of visiting an emergency dental office depends on the severity of your dental health issues, your insurance coverage, and whether any follow-up visits are necessary. In most cases, emergency dental services completed by an oral surgeon are more expensive than those administered at a general dental office. Our dentists and team members understand that an unplanned emergency dental expense can place a strain on your budget, so we work with patients to find a financial option that meets their needs. We are in-network with multiple insurance providers, and flexible financing arrangements may be available. Please give us a call for more information.