Posted under:
General
Posted on: November 4, 2021
What to Expect with a Tooth Extraction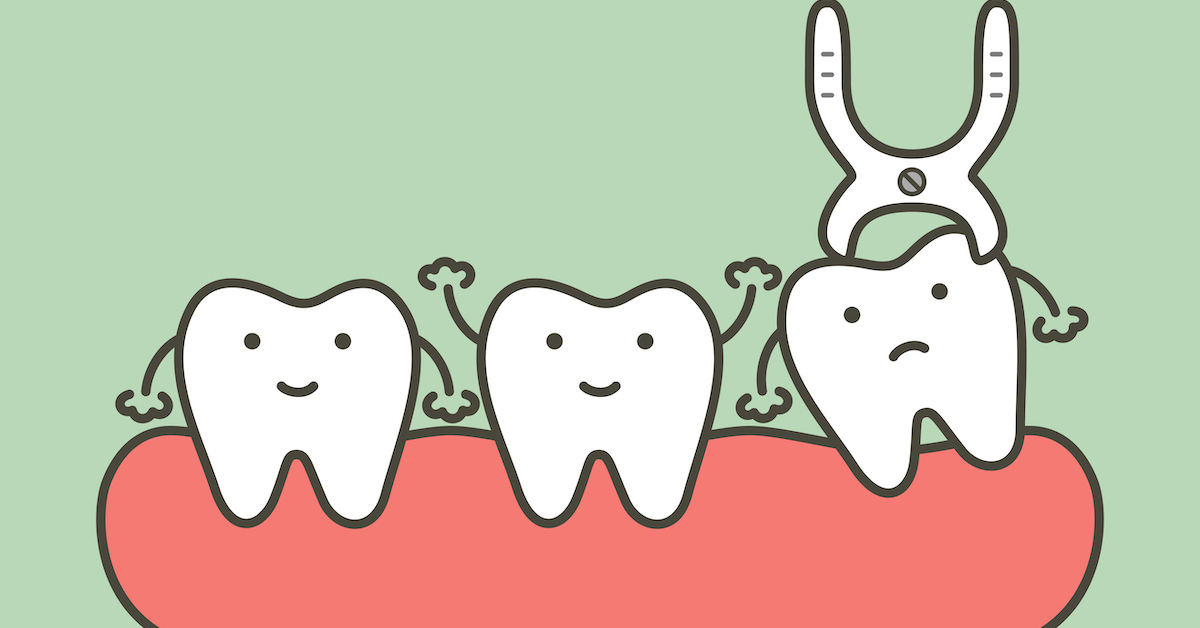 A visit to the dentist is rarely a welcome occasion—sharp objects, noisy tools, and the uncertainty of what might happen commonly lead people of all ages to dread dental appointments. Often, the uneasiness associated with professional dental care has to do with simply not knowing what to expect.
A tooth extraction is among the most feared dental procedures for these very reasons; losing a tooth as an adult is hardly the rite of passage that it is for a child. However, finding a dentist in Western Massachusetts, understanding associated costs, knowing what a tooth extraction is and how to prepare, and the process of recovery may help to relieve anxiety.
To maintain optimal dental care, damaged, broken, or loose teeth often require professional tooth extraction. By definition, a tooth extraction is the removal of a tooth from the socket in the bone. There are a number of reasons why you may need a tooth extraction, but regardless, you need to know the costs, what to expect, how to prepare, and what the recovery process entails.
Your preparation for a tooth extraction will start with an x-ray, so that your dentist can carefully plan the removal of the tooth. You and your dental care provider will also need to discuss your medical history and the best method of sedation. You need to be aware that preparing for your tooth extraction also means maintaining open communication with your dentist—having a cold, nasal congestion, nausea, or vomiting up to a week before surgery could delay the procedure. Inform your dental care provider if you experience these symptoms to ensure safety and optimal outcomes.
Before tooth extraction
Let your dentist in Western Massachusetts know about any medications and supplements you take, or medical conditions that put you at a high risk of infection, such as:
History of bacterial endocarditis
Damaged or man-made heart valves
Congenital heart defect
Impaired immune system
Liver disease (cirrhosis)
Artificial joint, such as knee or hip replacement
There are two types of tooth extraction: simple and surgical. Simple tooth extraction is the removal of a tooth that can be seen in the mouth. The tooth is loosened and carefully removed. A surgical tooth extraction is more complex. It is used for teeth below the gum line and requires a small incision in the gum.
Local anesthetic is used for both types of extraction and, in some cases of surgical tooth extraction, intravenous anesthetic may be used. During the procedure, you should feel no pain, only pressure. If you feel any pinching or pain, it is important that you let your dental care provider know.
After tooth extraction
Your dentist at Western Massachusetts will pack the tooth socket with gauze and you'll be asked to bite down to lessen the bleeding. A few self-dissolving stitches may be used to close the tooth extraction site.
Once you get home, follow these important dental care guidelines:
Take it easy for a minimum of 24 hours
Continue to bite down on the gauze for at least three hours to reduce bleeding and allow a clot to form. Replace soaked gauze as necessary.
Apply ice immediately after tooth extraction and at 10-minute intervals.
Don't lie flat. Prop your head up on pillows to lessen bleeding.
Don't rinse, spit forcibly, or drink from a straw for 24 hours.
After 24 hours, rinse with a solution of ½ teaspoon of salt mixed into 8 ounces of warm water.
Eat soft foods like yogurt, soups, and applesauce. Slowly add solid foods as the tooth extraction site heals.
Avoid the tooth extraction site when brushing and flossing your other teeth.
Take painkillers as directed by your dentist.
A certain amount of pain, swelling, and bleeding are normal after a tooth extraction, but notify your dentist in Western Massachusetts if you experience any of the following symptoms:
Severe pain, swelling, or bleeding after the first four hours
Redness, swelling, or excessive discharge from the extraction site
Fever, chills, or other signs of infection
Nausea or vomiting
Coughing, shortness of breath, or chest pain
Contact your dentist in Western Massachusetts immediately if you experience intense swelling, uncontrolled bleeding, excessive pain, fever, chills, redness, or difficulty swallowing.
You will need to eat only soft and cold foods for the next several days, adding other food as your mouth heals. Smoking, sipping through a straw, and spitting after surgery should be avoided—these activities can pull the blood clot from the area of tooth extraction and lead to complications.
Generally, the tooth extraction site will heal in one to two weeks. After it's healed, you can resume your regular dental care routine.
What About Wisdom Tooth Extraction?
The wisdom teeth are the four third molars located at the back of the mouth along the top and bottom gum lines that commonly emerge during adulthood. While it has become a common preventive practice, not all wisdom teeth need to be extracted. Wisdom tooth extraction as a preventive measure is a source of debate among dental care experts. Many factors must be considered when choosing to have your wisdom teeth removed: the risks, benefits, and impact on your quality of life should be considered in conjunction with the expert advice of a trusted dental care professional in Western Massachusetts.
The wisdom teeth emerge straight and fit comfortably in the mouth for many people, while for others, they never erupt, so tooth extraction is unnecessary. However, for some, wisdom teeth emerge crooked or don't have room to grow, which leads to dental health problems.
Some dentists recommend wisdom tooth extraction as a preventive measure against the possibility of problems in the future. Consulting with your dental care provider and even obtaining a second opinion is key in preparing for wisdom tooth extraction. Seeking the advice of a trusted, affordable dentist in Western Massachusetts can make a difference in your long-term dental care.
Wisdom tooth extraction is recommended by The American Dental Association (ADA) for these reasons:
Tumor or cyst development
Pain or discomfort
Infection
Development of gum disease
Damage to nearby teeth
Tooth decay
Even if your wisdom teeth are not causing you discomfort now, you should understand why preventive measures by a dentist in Western Massachusetts might be necessary. The most common reasons for preventive tooth extraction include:
Potential for disease: wisdom teeth can harbor disease even in the absence of symptoms
Safety: many dental care experts believe it is difficult to predict future problems with impacted wisdom teeth and it is safer to simply remove them before they can cause issue
Removing the teeth when a person is young reduces future risks, since older adults can experience health complication before, during, or after the tooth extraction
You may find a dentist who does not advise removal of wisdom teeth that are not problematic. Some dental care professionals believe that the evidence is insufficient that asymptomatic wisdom teeth can cause complications or disease later in life and does not justify the risks and expense of the tooth extraction procedure. You should consult with a caring, affordable dentist in Western Massachusetts to learn about the pros and cons of the procedure so you can make the right decision for you.