Posted under:
General
Posted on: September 21, 2021
Understanding Sensitive Teeth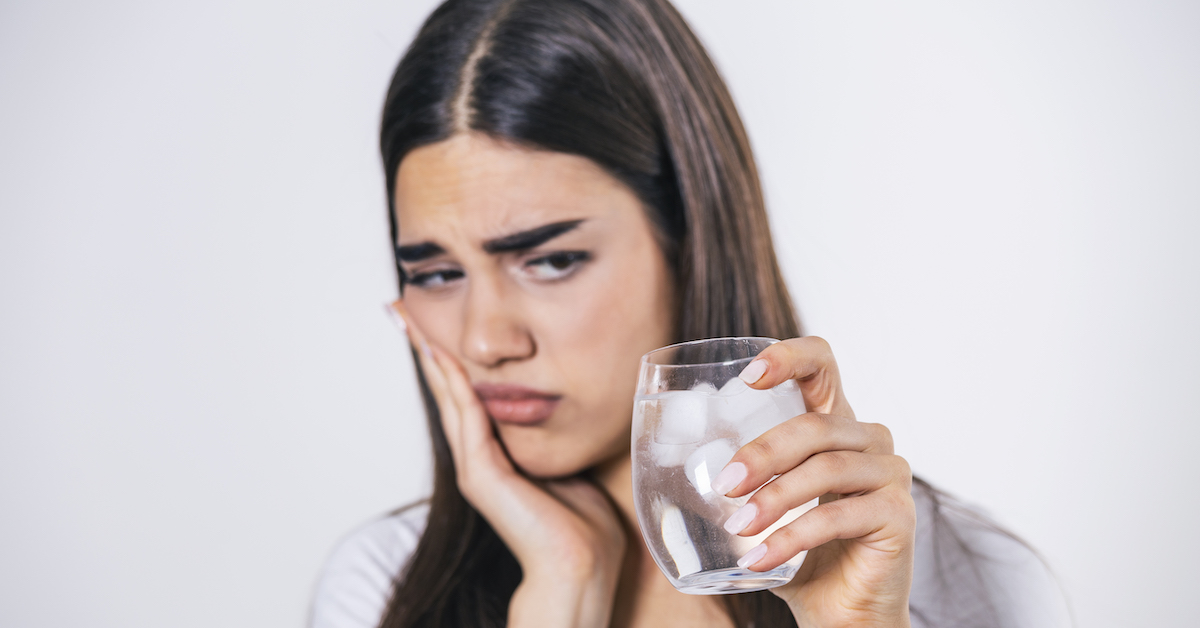 Do you feel a sharp, stinging sensation when tasting things that are hot, cold, sour, or sweet? Then you're probably facing sensitive teeth and gums. While sensitive teeth are common today, it's easy to treat and stop sensitivity at the source.
Having sensitive teeth and gums is miserable. Routine dental care activities like brushing and flossing can be painful. In some cases, you may even experience pain when breathing in cold air. Fortunately, understanding the causes and treatments for tooth sensitivity can help you learn to manage and even reverse symptoms. Once you learn how to help sensitive teeth feel better, you can enjoy more activities and foods that might have been off limits before starting treatment.
Tooth sensitivity is usually caused when tooth enamel wears away and the tooth's root becomes exposed, but it also results from tooth decay and cracked teeth. The condition can also come from gum disease, receded gums, and aggressive brushing because these all expose the delicate nerves within the roots of the tooth. Then when the roots come into contact with certain extreme sensations, they strike the super-sensitive nerves and cause sharp pangs of pain.
The best treatment for the pain you are experiencing will be determined by the underlying reason for it. If you are indeed suffering from a common case of tooth sensitivity due to exposed dentin and nerves, desensitizing toothpaste formulations can be of great help. Your dentist may offer fluoride supplements to help strengthen the enamel of affected teeth. If receding gums are the culprit, your dental care professional may choose to apply a dental sealant to create a barrier to block further irritants from reaching the nerve. If none of these treatments does the job, a root canal procedure may be used to address issues in the dental pulp.
Common Causes of Sensitive Teeth
You're brushing too hard or using a hard-bristled toothbrush. This can wear down enamel and make sensitive nerves more accessible. Be gentle when brushing, and switch to a soft toothbrush.
Acidic foods increase pain. Avoid tomatoes, citrus fruits, pickles, and other acidic foods and beverages to reduce symptoms.
You're grinding your teeth at night; this can expose dentin and allow irritants access to nerve tissue. Ask your dentist about a custom night guard.
Tooth-whitening ingredients in your toothpaste, mouthwash, or other products could be causing sensitivity. If you're suspicious, try switching brands.
Alcohol or other mouthwash ingredients are causing sensitivity. Try a neutral rinse, or don't use mouthwash at all.
You have receding gums due to gum disease. Your dentist can help by applying a sealant and treating the gum inflammation.
You've recently had a dental procedure. Some sensitivity after a root canal, extraction, or filling is common. If it continues, see your dentist to rule out infection.
You have a cracked or chipped tooth. See your dentist as soon as possible. In some cases, sensitivity can turn to severe pain if the damage is left untreated.
Decay is present around the edges of a filling. Old fillings may fracture or leak, and acids and bacteria can lead to enamel breakdown. In most cases, replacing the filling will solve the problem.
Since tooth sensitivity can be due to serious underlying problems, it's important to seek professional evaluation. Your dentist may recommend special toothpastes or fluoride treatments to strengthen enamel and reduce sensation.
How to Help Sensitive Teeth and Gums
Visit your dentist in Western Massachusetts regularly to ensure great dental health.
Be consistent with your dental care routine.
Use a soft-bristled toothbrush and brush your sensitive teeth and gums gently.
Choose toothpaste made for sensitive teeth.
Try a fluoride mouthwash.
Wear a night guard to prevent teeth grinding.
Avoid acidic foods like lemons, oranges, and tomatoes.
It's important to know how to help sensitive teeth. If you know that you grind your teeth, particularly at night, it may be wise to visit your family dentistry clinic to see if your dental care professional believes that a mouth guard would be useful as a way to prevent tooth fractures and sensitivity.
You can also take steps to stave off sensitivity by steering clear of acidic fruits, carbonated beverages and wine, as all of these have the ability to erode tooth enamel. If you do indulge in these things, make sure to drink water or milk soon after to neutralize their effect. Brushing too quickly after having these items, however, can lead to additional erosion that could otherwise be avoided.
Take The Bite Out of Sensitivity
While nothing compares to an expert opinion, try the following dental care tips:
Discover Desensitizing Toothpaste – These special toothpastes stop sensitivity from striking the nerves of the tooth. After a few applications, you'll find that they truly prevent any pangs of pain.
Ask About Fluoride – When fluoride is applied to sensitive spots on the teeth, it strengthens the tooth's enamel to fight off future sensitivity.
Find the Remedy at the Roots – If your sensitivity is due to receded gums, an expert in family dentistry can place a gum graft on the tooth's root to relieve and reduce the sting at the source.
Luckily, sensitive teeth and gums are not only treatable, but also preventable. The best way to prevent this problem is by practicing good dental care. This includes brushing your teeth twice a day with a soft-bristled toothbrush and a very gentle touch, as well as flossing on a daily basis and having regular dental care check-ups.
Tooth sensitivity can be a real pain, but you don't have to suffer in silence. By practicing good dental care and seeking out trusted treatments, you can stop being so sensitive and start living life without pain.