Posted under:
General
Posted on: May 25, 2021
Reasons and Remedies for Tooth Discoloration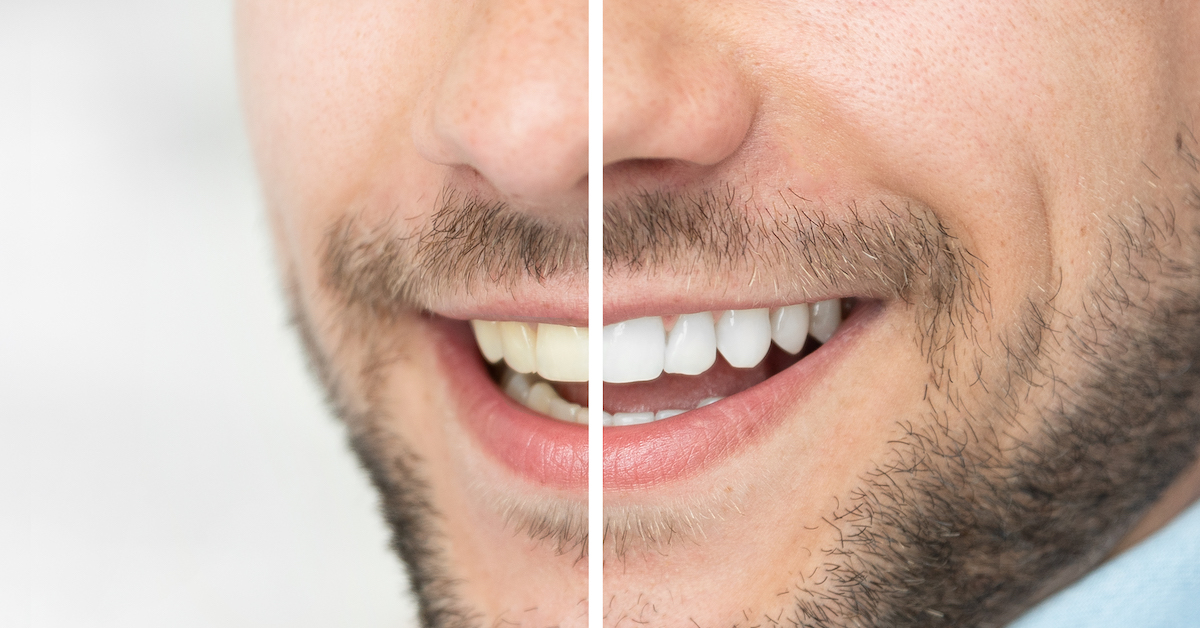 If your teeth are dark and discolored, your smile can affect your overall confidence. Discover what you can do to whiten your smile and brighten your outlook.
Causes of Cases of Stained Teeth
Did you know there are many causes of discolored teeth? Some are within your control, while others happen naturally, but the main reasons for tooth discoloration include certain medications, trauma to a permanent tooth, and aging, which causes tooth enamel to wear away, exposing the dark layer beneath called dentin. There may also be outside forces at work causing tooth discoloration, including your food and beverage choices and tobacco use.
The Food You Eat May Be the Culprit
Most people don't realize that the foods and drinks that cause them great pleasure can also cause the discoloration of teeth. All of these foods can sabotage your smile:
Sugary Beverages – Sugary drinks like sodas, sports drinks, and fruit juices are full of the simple sugars and acids that can erode enamel, which makes teeth appear much darker.
Dark Drinks – Dark-colored beverages like coffee, tea, and red wine can lead to stained teeth, as well as weaken tooth enamel with their powerful acids.
Sweet Snacks – Most candies and gums are all sugar, which can attack teeth and remove their white enamel.
Starch-Stuffed Foods – Starchy items like white breads, rice, potatoes, pastas, and cereals are full of sneaky sugars that can deplete tooth enamel.
Foods that Fight the Discoloration of Teeth
Just as eating the wrong foods can stain your teeth, choosing the right ones can keep them white. The key to a brighter smile is eating a balanced diet with a wide range of nutrients. To keep your smile white, make these part of your meals and snacks:
Water – In addition to being the best way to quench your thirst, it's the smartest way to avoid stained teeth since water rinses away the sugars, acids, and hidden food particles that can wear away enamel and result in tooth discoloration.
Sugar-Free Drinks – If plain water won't do, then opt for sugar-free drinks , which also will rinse away the substances that can attack your teeth over time.
Milk and Cheese – Along with neutralizing acids in the mouth by increasing your saliva flow, all of the protein and calcium in these dairy sources can strengthen teeth and prevent the erosion of their white enamel.
Fish and Flax Seeds -These choices are full of omega-3 fatty acids, which are the strongest anti-inflammatory nutrients. And foods that reduce inflammation may protect you from gum disease.
Cocoa – Research shows that cocoa can also lessen inflammation, while protecting you from tooth decay and enamel erosion.
Has Smoking Burned You with Tooth Discoloration?
Almost every smoker bears the burden and bother of stained teeth. Learn the best way to stomp out this dental darkness.
Pack Up the Truth about Cigarettes and Tooth Discoloration
Dentists strongly agree that tobacco use is a leading cause of the discoloration of teeth. If you want to maintain a healthy, white smile, you should stay away from smoking and tobacco in any form. In addition to harming your overall health, tobacco affects your smile by causing periodontal disease and staining teeth with a yellow or gray tint.
Ways to Puff Out the Problem of Stained Teeth from Smoking
Despite the warnings about tobacco use, many people are just not ready to halt the habit. For those who can live with the major health risks and the discoloration of teeth, here are some helpful hints to reduce smoking stains:
Get regular, professional cleanings at least twice a year.
Brush, floss, and use an antibacterial mouth rinse every day to help prevent plaque from building up on your teeth and holding onto stains.
Brush your teeth after meals and smoking cigarettes to reduce the stains that lead to tooth discoloration.
Eat a healthy, balanced diet.
A Whiter Smile Is Not Just Smoke and Mirrors
Many people who smoke think that stained teeth are an unavoidable side effect. But today, there is a wide range of whitening options for every level of staining. For those who continue to smoke after treatment, be aware that tooth discoloration is likely to return. Ask your dentist about the following whitening choices:
Over-the-counter whitening toothpastes, which may improve stains and help prevent future darkness, but may also make teeth sensitive.
At-home tooth whitening treatments, which can lighten minor stains, but may cause sensitivity.
Professional tooth whitening by a dentist, which produces the fastest and whitest results.
Pointers to Prevent the Discoloration of Teeth
Luckily, you can avoid the stress and shame of stained teeth with a few simple precautions. Follow these dental tips to stop stains from starting a problem:
Maintain good oral hygiene at home by brushing, flossing, and rinsing with an antibacterial mouthwash every day, as directed by your dentist.
Brush your teeth after every meal and snack.
Rinse your mouth with water after consuming dark-colored beverages.
Don't delay any needed dental procedures because this can cause the discoloration of teeth.
Get professional dental cleanings on a regular basis to polish away stains.
Tactics to Tackle Tooth Discoloration
If you're hiding your smile because of stained teeth, it's time to see the light. You have a variety of tooth whitening options, depending on your needs. These are most popular:
Professional tooth whitening in the dentist's office, which delivers the most dramatic and fastest results.
At-home whitening kits from your dentist can remove most stains, but they require more time than in-office treatments.
Over-the-counter whitening products for home use are weaker than professional treatments, so they won't whiten teeth as much or as quickly.
Tooth whitening toothpastes can remove some lighter stains, but deliver the least overall whitening.
Dental crowns or veneers can cover up signs of staining that are resistant to whitening products.
Ask your dentist which way is best for you to whiten and brighten your teeth.