Posted under:
General
Posted on: December 29, 2020
Brush Up on the Benefits of Brushing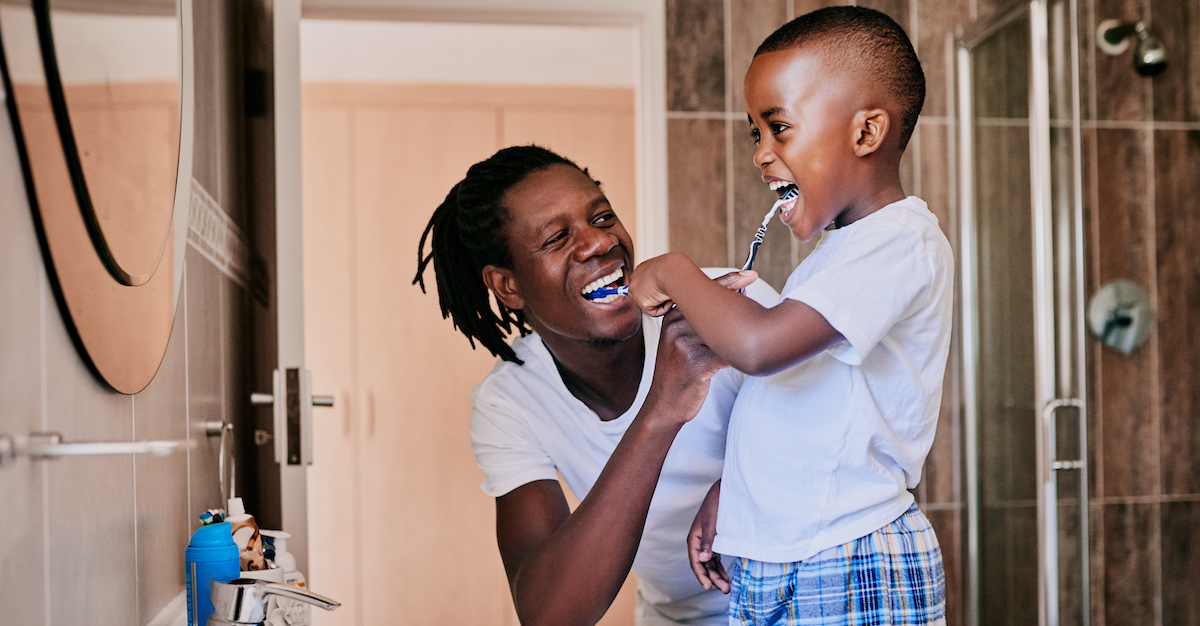 You've been brushing and flossing since before you can remember, so why would you need to brush up on your skills? The fact is that brushing and flossing is such a routine habit that many times proper techniques are not applied—not because you don't know how, but because, well, you're busy living your life. That's when a friendly reminder can come in handy—a little something to bring you back to the basics. It takes just a few minutes each day to maximize your dental care. Use these tips from family dentistry experts to keep your smile shining, no matter where life takes you.
Why Brushing Your Teeth Is So Important
Brushing your teeth twice every day can do far more than keep your breath fresh and prevent unsightly stains. Proper dental care at home helps to prevent serious gum disease, which is linked not only to early tooth loss in adults but also to heart disease, strokes, pneumonia, and diabetes. Access to affordable dentists allows many patients to get help with gum problems before they become serious, but one of the best ways to prevent gum disease and periodontitis is to brush your teeth thoroughly and consistently.
The Consequences of Plaque
The sticky material that forms on your teeth is called plaque. When it combines with the starches and sugars contained in foods you eat, the mixture creates an acid that attacks your tooth enamel, which leads to decay. Plaque also irritates your gums and causes inflammation. Symptoms of early gum disease include red, swollen, bleeding, and tender gums. The condition in its earliest stages is called gingivitis, and it can be reversed if treated in time. If left untreated, it will cause gums to separate from teeth and form pockets containing bacteria and pus. If gingivitis progresses to periodontitis, the disease will eventually destabilize your teeth by destroying the supporting bone structure. When this occurs, teeth will loosen and may have to be extracted.
Proper Brushing Habits for Healthy Teeth
Family dentistry experts can tell you how poor brushing habits lead to tooth decay and serious gum disease. It's something dental care professionals see every day. Brushing your teeth regularly is essential, but it must be done correctly to be truly effective. The American Dental Association (ADA) recommends these techniques to maximize your dental care routine and oral health outcomes:
Brush often. Brush your teeth at least twice a day for two minutes. If you're able to, brush after every meal to minimize bacteria and acid formation that contribute to tooth decay.
Brush all of your teeth. Include hard-to-reach areas and even sensitive teeth. If it hurts to brush an area, see an experienced, affordable dentist in Western Massachusetts.
Selecting a toothbrush. Choose a soft-bristled toothbrush that will comfortably fit your mouth. The toothbrush needs to strike the right balance between being firm enough to remove plaque buildup and soft enough to prevent damage to the teeth and gums. Many experts now recommend electric or battery-operated toothbrushes, which have been shown to reduce plaque and gingivitis better than manual brushing.
Choosing a toothpaste. You have lots of choices on the market when it comes to toothpaste. Be certain to choose a brand that's approved by the ADA.
Perfect technique. Divide your mouth in quadrants and focus on each quadrant for 30 seconds, getting the inside, outside, and bottom of the teeth in each area. Hold your toothbrush at a slight angle and brush gently with short back-and-forth motions. Don't forget to brush your tongue as well.
Round and round. Use a gentle circular motion, rather than vigorous up-and-down brushing to prevent unhealthy wear and tear of the teeth and gums.
Timing is everything. Most family dentistry professionals recommend brushing your teeth for a minimum of two minutes to remove bacteria and food particles from all areas of the mouth.
Clean your dental care equipment. Following each brushing, rinse your toothbrush thoroughly with water and store in an upright position. Allow the toothbrush to air-dry when possible before your next use. Avoid covering your toothbrush or storing in a closed container, as this can breed bacteria.
Replace your toothbrush regularly. Regardless if you use a manual or electric toothbrush, your toothbrush should be replaced every three months or when the bristles become worn—whichever comes first.
Floss daily. There are places that your toothbrush simply can't reach, making flossing an essential part of any healthy dental care routine.
Rinse after brushing. Choose a mouthwash to further wash away bacteria and germs that might remain in the mouth after brushing and flossing.
The order of things. You can brush before you floss or floss before you brush.
Visit the family dentist. Schedule routine visits to an affordable dentist every six months and adhere to that schedule. Your oral care is a team effort between you and your dentist—you can't do it alone.
Brush Your Way to Healthy Teeth and Gums
While tooth brushing is hardly a difficult skill, doing it right can make all the difference in your oral health throughout your life. Even if you've been brushing for almost your whole life, this refresher course in tooth-brushing techniques can ensure that your pearly whites stay beautiful and in place for the rest of your life. Brushing keeps your teeth in great condition, but proper brushing keeps your teeth in excellent condition. Don't you want the very best for the health of your smile?